We were dying to get out of the house yesterday so I took the kids over to my mom's house to run through the sprinker. My mom called before we left and suggested I bring the slip and slide Ty got for his birthday.
Haha! Doesn't she seriously look like she's 10 feet tall?! I love the perspective of this one. Of course right after this she kicked him in the head and proceeded to pick him up by the ears (again) to move him. As much as I'd love to say Taryn loves having Ty home for the summer, she really is annoyed by how much he gets her in her way. Ty loves every minute of it though, doesn't bother him in the least.
giving the water smoochies
this one makes me smile - ruffle bum and chubbies
thirsty girl
I wasn't really planning on taryn playing on the slip and slide but I should have known better. She has to do everything Ty does...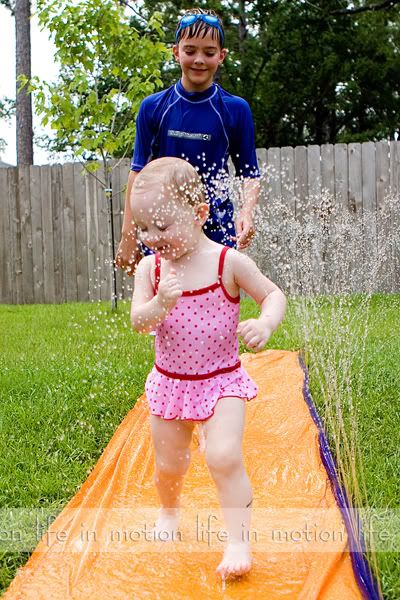 this one cracks me up, he really wanted her to move out of the way and she refused to budge (notice the hand on ty's hip & taryn has a diaper wedgie!! LOL)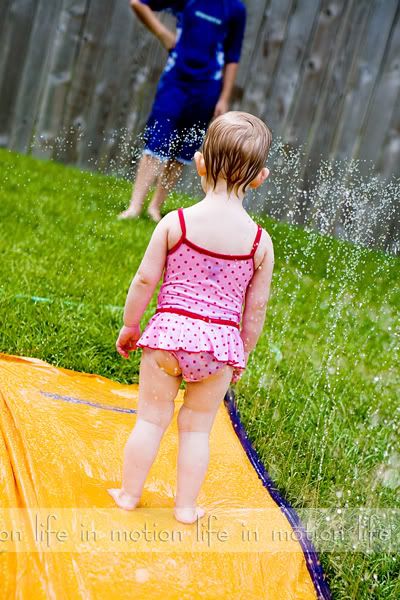 a few action shots...
crash
splash
Thanks for stopping in =)